The best way to save yourself a lot of time and effort in your home is to get organized. According to grandma, "have a place for everything, and everything will be in its place."
And while you can spend several time and money on home organization, you really shouldn't have to. There are many items you can use in your home by recycling them and repurpose them to keep your home organized.
Your toilet paper, the cereal you eat, that empty soda box in your kitchen are all items you can use in your home organization project.
Want to remove clutter from your life? Do this without spending a fortune. You can even get it completed without spending a dime.
Many of my home organizing projects can often be performed in 5mins or 10mins period all through the day, using items I already have in your house.
Here are a few great ideas to get you going:
1. Keep Hardware Together
Disassembling your furniture is always a painful task regardless of the reason. But you can make this task easier on you by making use of this little tip to keep furniture together.
Lay a strip of packing tape on the floor with the sticky side up. Stick the furniture onto it, and then use another piece of packing tape to cover it (making sure the sticky sides stick together).
Label the tape using a permanent marker, so you know the piece of furniture the hardware belongs to. The hardware will remain secure in the tape, and you know the exact place it goes.
2. Control your Cords
Do you have a large jumble of cords? Wrap each cord up and keep it in an empty toilet paper roll to save it from tangling when it is not being used.
Tip: Write the appliance that owns the cord on the outside tube. You may not know it, but one of the most useful items in your home is empty toilet paper rolls. You can use these cardboard tubes for everything, such as seed pots or pet toys. And the great thing is you have it in abundance.
3. Cookie-Cutter Control
Don't like to search in a drawer for the perfect cookie cutter? Try this simple trick. Divide your cookie cutters into smaller categories based on season, holiday, baking project type, or any other preferred system.
Place each group into a separate ziplock bag and label them using a permanent marker. You will know the exact place to begin your search the next time you need a cookie-cutter.
4. Stash Canned Goods
Make use of empty soda can box to arrange canned foods in your pantry. This is very much helpful if you like stocking up. With a single box, you can organize canned goods by type.
Tip: use wrapping paper to wrap the soda boxes for a more attractive look.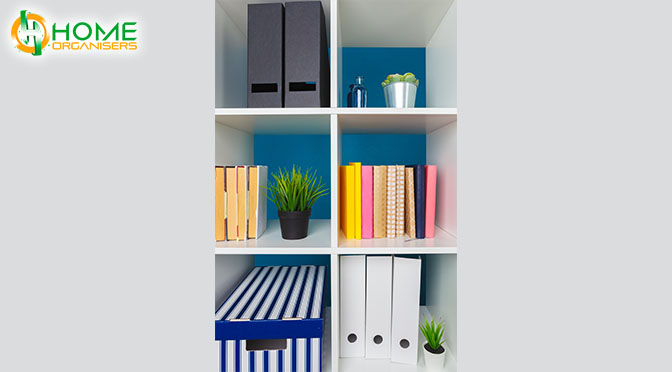 5. Pockets for Papers
Use durable plastic binder pockets to maintain the proper organization of important papers in your kitchen. Use these pockets to keep your favorite recipes, coupons, take-out menus, printable reference sheets, and so on. Tape the pockets from the cabinet door's interior to keep them hidden but also accessible.
Free Drawer Organizers
Make use of free dividers for your drawers and storage bins by reducing cardboard boxes. You can customize these to fit your needs and style, unlike the dividers sold in store. Wrap them in your preferred color.
Tip: make use of an extra silverware organizer to keep loose items in your drawers. 
Hang Measuring Cups
Hang your measuring cups one by one to make them more convenient, rather than keeping them in a stack. I make use of small command hooks to hold mine on the interior of the cupboard doors. It makes grabbing them easily when needed, and we all know where to place them in the home when it is their turn to unload the dishwasher.
8. Instant Ribbon Dispenser
You can turn your cheap plastic bin into a very simple ribbon dispenser. Just check for a small bin that has holes on the sides (often available at the dollar store). Keep your ribbon into the bin and apply thread at the ends through the holes found in the bin. Pull-on the ribbon as needed, and the rest will remain well organized.
9. Reduce the Clutter in the Hall Closet
The hall closet can be easily filled with hats, scarves, gloves, and umbrellas. Tackle this by hanging an empty shoe organizer on the door's interior. It is great for keeping all those difficult and ends where you can easily see it and much affordable than closet organizers.
Organize Craft Supplies
Have you lost control of your craft stash? Break your craft supplies based on type (paint, stamps, threads, and so on). Then, keep each grouping in its baby wipe or strawberry box. Other storage items you can try: coffee cans, pretzel barrels, empty spice bottles (great for keeping beads), and large peanut butter jars.
Tips: Get fun and funky containers at garage sales and flea markets. Candy dishes, vintage recipe card boxes, and pottery can work as eclectic room décor, and they are usually very cheap.  
11. Container Lid Storage
Below is an easy means to ensure the lid from your food storage containers organized. Grab a small plastic bin from the nearest dollar store, together with a less expensive cooling rack. Place the rack on top of the bin, then slide the container lids into the ports formed by the rack. You can easily see and access the lids this way.
Free Wrapping Supply Storage
Although those attractive wrapping paper storage containers are perfect, they can be costly. Just scrub an extra wastebasket out, 5-gala long bucket, or another container with tall sides. Do you have some soft bags you plan to reuse? Keep them in an empty computer paper box as it is a perfect size.
13. Recycled Desk Organizer
Make use of few cardboard tubes from toilet paper rolls as well as an empty tissue box to create a desk organizer. Cut different lengths from the tubes, and then tape them straight into the tissue box. Decorate it using wash tape or scrapbook paper, and keep your pens and desk accessories organized.
Do you need a Professional Help?
We believe that the above home organisation hack are simple enough and will go a long way in bringing sanity to your home space organisation. However, if you still need a further help organizing your home, don't hesitate to call on Home Organisers. We are always available to help you declutter and organize your home.
Contact us for a free estimate today!