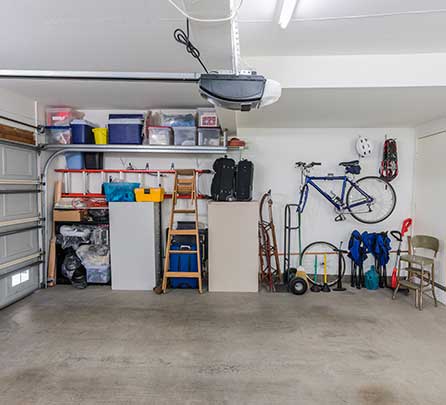 Garage Decluttering in Melbourne
Organising a garage can indeed be tedious since the place is generally used as a secondary storage space for useful as well as useless items. But when you have Home Organisers with you, there's no point in worrying about the organisation of this place since we perform result-oriented garage decluttering in Melbourne.What this means is that after the completion of our service, your garage will become tidy, from top to bottom. And if you are planning to clean the place but couldn't rearrange the place due to a large number of items, expect to see everything in place. Yes, we guarantee that you will be awestruck at the end of the service because, as perfectionists, we will declutter the place stepwise and with attention to detail.
Declutter Your Garage in One Day in Melbourne
Our professionals can indeed declutter your garage in one day in Melbourne. That's because they work in teams. Besides, their experience of tidying up garages across the city helps them to rearrange everything within a short duration. However, during the process, they might discard a few useless items after taking your permission. The absence of these will make the garage look more organised.Whether there are car components, instruments or other things that are lying here and there, our garage organisers in Melbourne will place them where they should be. Moreover, if you like a few items at their specific places in the garage, they will follow your directions word by word.
Why Book Our Garage Decluttering Service?
Schedule our garage decluttering service since
Our professionals systematically declutter garages
Our organisers complete garage cleaning on the same day
Our declutterers patiently tidy up garages without making even the slightest mistake
Want to learn more about our service before you book? Call us now.
Schedule the Service at Your Convenient Time
Book the garage decluttering service at a time when you are free. To do that, call us now or send us an email requesting the same.
AREAS WE SERVE
Garage Decluttering Hoppers Crossing
Garage Decluttering Werribee
Garage Decluttering Altona
Garage Decluttering Altona North
Garage Decluttering Laverton
Garage Decluttering Truganina
Garage Decluttering Sunshine
Garage Decluttering Deer Park
Garage Decluttering Maribyrnong
Garage Decluttering Flemington
Garage Decluttering Footscray
Garage Decluttering Brunswick
Garage Decluttering Thornbury
Garage Decluttering Preston
Garage Decluttering Bulleen
Garage Decluttering Heidelberg
Garage Decluttering Lower Plenty
Garage Decluttering Box Hill
Garage Decluttering Nunawading
Garage Decluttering Burwood
Garage Decluttering Burwood East
Garage Decluttering Wantirna
Garage Decluttering Ringwood
Garage Decluttering Doncaster
Garage Decluttering Doncaster East
Garage Decluttering Malvern East
Garage Decluttering Chadstone
Garage Decluttering Glen Waverly
Garage Decluttering Oakleigh
Garage Decluttering Oakleigh East
Garage Decluttering Bentleigh
Garage Decluttering Bentleigh East
Garage Decluttering Hampton
Garage Decluttering Beaumaris
Garage Decluttering Black Rock
Garage Decluttering Mentone
Garage Decluttering Collingwood
Garage Decluttering Elwood
Garage Decluttering Essendon
Garage Decluttering Fairfield
Garage Decluttering Fitzroy
Garage Decluttering Glen Iris
Garage Decluttering Glen Waverley
Garage Decluttering Greensborough
Garage Decluttering McKinnon
Garage Decluttering Moonee Ponds
Garage Decluttering Mount Waverley
Garage Decluttering Ormond
Garage Decluttering Pascoe Vale
Garage Decluttering Sandringham
Garage Decluttering Thomastown
Garage Decluttering Windsor
Garage Decluttering Yarraville
Garage Decluttering Brunswick East
Garage Decluttering Brunswick West
Garage Decluttering Carlton North
Garage Decluttering Kensington
Garage Decluttering Newport
Garage Decluttering West Melbourne
Garage Decluttering Camberwell East
Garage Decluttering Box Hill North
Garage Decluttering Box Hill South
Garage Decluttering Hawthorn East
Garage Decluttering Hughesdale
Garage Decluttering Mulgrave East
Garage Decluttering North Balwyn
Garage Decluttering North Fitzroy
Garage Decluttering Northcote South
Garage Decluttering Prahran East
Garage Decluttering Prahran South
Garage Decluttering Rosanna
Garage Decluttering Surrey Hills South
Garage Decluttering Templestowe Lower
Garage Decluttering Toorak Gardens
Garage Decluttering Yarra Bend
Garage Decluttering Glen Huntly
Garage Decluttering Melbourne CBD