Organizing is always the best. Since you will be able to find your items when needed or even know where to keep things after purchase. However, home organisation is not easy without storage.
We will today share about how to organize your home with these 50 helpful storage ideas for gaining control of even the most difficult rooms in your home.
Whether you don't have much space or just want additional organisation, there are certainly new and obvious ways to improve storage space in your home. 
An organised space looks nice and also gets rid of stress as well as make a small home look larger.
There are numerous products available in the market to help you maintain a neat home, so you only need to figure out the methods that best work for your unique space. You can get a good result for your home by using organisational tools, but you don't have to break the bank to stay neat. That is why we make you this list of easy and affordable organizational ideas. 
1. Shoe Organiser
You can keep all your cleaning supplies as well as bottles in a single place with a shoe organiser. Hang the shoe organiser on the door to your laundry or mudroom. Any time you want to clean, just open it and pick whatever you need.
2. CD Rack Lid Storage
Organising Tupperware in the kitchen is a frustrating task. It is difficult to keep track of lids. With a metal CD rack, you can keep them upright and insight. Store the smaller lids in the front and the larger ones towards the back to make sure they are all visible. .
3. Under-Sink Storage Solution
This idea is highly effective for the bathroom for all the air accessories as well as extra cosmetics. It may be more effective for lighter items in the future, but this is a brilliant storage idea as it doesn't take up a noticeable amount of space. Keep the baskets secure by hanging them behind a cabinet door using command hooks.
4. Outdoor Towel Organiser
This is one great and smart idea. Build a cheap but strong outdoor towel organiser using some PVC. Your household members and guests can easily store their towels there and not on the ground anymore. Pool toys as well as floatation devices can also be stored on it. 
5. Bamboo Trays
Get rid of clutter from your cutlery drawer with this easy bamboo tray. Your flatware will be as needed and visible as it can be when you keep this tray in a kitchen drawer directly. It contains storage slots that can be used to store different sizes of spoons, knives, and forks.  
 
6. Over-the-Door Rack
One of the best ways to stay organized is to convert dead space into extra storage. This rack will give you a minimum of eight hooks to your storage space, and more, if you are being creative. It can easily be placed on your door and is strong enough to contain heavier items, such as jackets. You can hang my bathrobe and towels on one of these racks, but I discovered it is also perfect to keep heavier items like winter coats, which can consume a lot of closet space
7. Soapbox Storage
Since these things don't cost more than $1, they are the best solution for storing smaller items that often get lost. And, if you have kids, you know how much they go around with their crayons, cards, and toys in the car. Use soapboxes as the perfect travel solution for this. 
8. Recycled Creamer Bottles
I've had a new look for food containers lately. People always see them as trash after they've done using them, but most of them are perfect for storage containers. You can use the Coffee-Mate Creamer bottles in particular for storing and making sure pantry items remain fresh. You can easily remove small snacks, nuts, sugar, chocolate chips, and so on through the small opening at the top. They are also perfect when used as a water bottle.
9. Bread Boxes
These are great as kitchen storage solutions due to their nature of doubling as a decoration too. Just make sure you have additional table linens in the bread boxes so, anytime there is a spill in the kitchen or you just decide to change, you can wipe them out with ease. 
10. Cosmetic Organisers
If you own makeup materials, you know these products can make one's surface look rough; they roll, drop, and sometimes spill. With these cosmetic organisers, you can perfectly store makeup since they have varieties of storing spaces for your makeup products, brushes, as well as other cosmetics. They can also be used to organise small office supplies. 
11. Paper Towel Holder for Ribbon
If you like to be crafty but have many tangled and crinkled ribbon in your tub, then use this great storage tip. Grab a paper towel holder and slide all the ribbon onto it. With that, you now have quick and easy access. 
12. A Makeshift Bookshelf
When I didn't have a bookshelf, I leave my books to pile up on my desk until I no longer feel comfortable with the pile's unstable nature and then I must consider moving this pile to the floor. This leads to a rough home and one unnecessary mess. You can convert any wall into a bookshelf with this small shelf. You will use a wooden plank, but the bookend structure on both sides implies that your items will be intact. 
13. Dinner Plate Cradles
Get some dinner plate cradles to keep your heavy plates uptight and easy to access from the cupboard instead of stacking them on one another. These are also perfect for drying places beside the sink. 
14. Vertical Bakeware Storage
Use cable clips to hold a bakeware organiser to the cupboard after turning it on its side to keep your pans and baking dishes instead of stacking them on top of each other (and having to remove everything to access the bottom). It works like a mini shelf that is just the perfect size for all those difficult-to-reach dishes.      
15. Budget-Friendly Drawer Dividers
You don't have to spend money since you possibly have things that will work as drawer dividers lying in your home without the extra expense. Be creative with items like an empty egg carton, silicone muffin liners, a shoe lid box, or flat Tupperware. This will enable you to store all of your small odds and ends without them falling at the back of the drawer. 
16. Tacklebox
Store batteries in a tackle box. This doesn't only keep all your batteries in one place but has different sections that divide the battery categories so you can get rid of confusion once and for all. 
17. Mason Jar Organiser
There are different ways in which you can make use of a mason jar storage around your home. Make use of them in the bathroom for items like bobby pins and Q-tips or inside the kitchen to store utensils attractively. 
18. Vacuum Storage Bags
These simple bags often save space a lot. They reduce big piles of clothes into flat, easily-stored bags. If you live in a small home like a dorm or a small apartment, these can be greatly perfect for your space. 
19. Egg Carton Storage
My family uses up two egg cartons almost every week. Lately, I've switched to buying the nick England's best that are stored in those clear plastic containers. They are so strong and easy to clean; perfect for storing some of kids' small toys, such as Barbie accessories, jacks, bouncy balls, pencil toppers, and so on. And, since they are made to store a delicate egg from breaking, they are just as perfect for keeping your small Christmas ornaments as well. 
20. Ceiling Storage
Assume you've never considered the ceiling as a storage place right? When you attach a couple of strands of rope or bungee cords, you can easily hand wrapping paper or other lightweight objects in a hidden sight. 
21. Airtight Containers
Use these simple jars perfectly for keeping fresh foods as well as dry goods. They make use of bail and seal closures, so you don't ever misplace the top, and also, this makes them secure, so your food is kept from perishing. Aside from food, these jars are perfect for keeping and showing art and craft supplies. 
22. Heel Mount
Keep your shoes safely and efficiently during this homemade heel mount. You only need to add crown molding as well as basic molding together and carefully at the best angle to achieve this storage system.
23. Easy Christmas Light Storage
A lot of tangles occur here. We often have to face this each year when we break out the entire Christmas lights. The sight of it stresses me out. Consider this easy and cheap solution to the problem: wrap the lights around pieces of cardboard as well as long wrapping paper rolls to keep them well organised and free of tangle. 
24. File Box Appliance Storage
If you are like me at all, you leave your curling iron, hairdryer, and hair straightener on the counter to cool off, and then forget it there; they add to the clutter on your counter space. Consider this solution to that problem with the use of a file box. Fix it to a wall or the side of a counter to gain easy access, now out of the way and still looking nice.
25. DIY Gift Wrap Organizer
I can't remember the number of times I've purchased gift wrap only to end up using half of it, and then forget the rest due to where I kept it (deep behind my closet, crumpled and maybe useless). This idea is great since you can hang it on your preferred place like on a wall and just easily move it when necessary. It is simple, as well. You need hooks, curtain rods, and a picture frame. 
26. Foil & Plastic Wrap Storage
Behind a pantry door is the right place to keep your clutter of plastic wrap and foil rolls. It won't get in the way, doesn't consume important drawer or counter space, and you can easily pull the wrap from the box whole it is hooked to the door.
27. Filed Scrapbook Paper
Avoid throwing your craft paper and scrapbook into anyhow bin or tub, mixing crumpling them altogether. Be organised by keeping it inside a filing system. You can also use color arrangement if you want.
   
28. A Hanging Pot & Pan Rack
Use a wall-mounted rack for your pans and pots to save more space in your kitchen cabinets. Store saucepans ad pots with lids on the top of the rack, and skillets as well as other cooking utensils hand from the rack's hooks. This will not only save you more space and make the space looks neat but will also give you easy access to your pots and pans for cooking.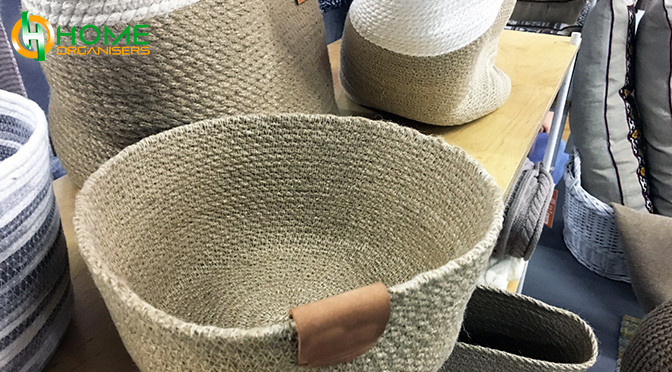 29. Pillowcase Storage
Tuck your similar sheet sets in one of its pillowcases to organize your linen closet. I so much like to use this idea for the fitted sheets as they give me much anxiety. You too can try it out and thank me later.
30. Repurposed Disinfectant Container
I have one of these stationed in each room of my house. I sometimes couldn't control my obsession with disinfectant wipes. It is because of their convenience usage; however, I don't like throwing away those nice containers. For you all that have pets, use these containers to store and easily dispense pets wastes. You can get creative and decorate the container to make it look nice sitting close to the counter. Are there any other purpose to give these again?  Be creative!
31. Mudroom
Even though you may not be able to control a mudroom, if this is the case, then you need to consider it. A mudroom is not only when wears, coats, bags, backpacks, as well as other items, are organized and kept, but it also ensures your house is cleaner by preventing any messes from getting inside. 
32. Boxes that can fit under your Bed
If the closet space in your bedroom is not much, I strongly suggest you consider under-bed storage. These Ikea boxes vent perfectly nets in the corners so there is enough breathing room for your clothing even when compressed tightly. If you won't consider under-bed storage, you can easily make use of these boxes as organisers inside your closet instead. 
33. Laundry Shelves
This is one great way to increase space in your laundry room without the need to expand the entire thing. Just make use of your vertical space through the installation of a shelving system and then slip the baskets into it. 
34. Wine Rack Towel Holder
This is clear! A wine rack mounted on the wall is perfect for holding rolled rowels. This is a perfect solution for a small bathroom that lacks sufficient cupboard space, but then has a free wall that you can use as towel storage.   
35. A Bedside Table with Multiple Storage Layers
You can perfectly store books, devices, and other items that can't be stored in your room in a bedside table. There are two surfaces to store items on this nightstand and a built-in storage box, for items you don't want to store in plain sight. Although small, people give this higher rating on Amazon for its convenience and more importantly, affordability.
 
36. Sink Skirt
If there is no cupboard space under your sink, you can still make use of it for storage. You need to install an attractive and fun sink skirt towards the border of the sink
37. DIY Heel Wall Mount
No more space in your closet? If you have a lot of high heels, this might be your solution. You can store your heels up and away from the way inside crown molding angled hung against a base molding piece. You can easily access them and look attractive displayed in this manner. 
38. Lockers
If you have many sports equipment, jackets, helmets, and so on, you may need to place a locker in the mudroom (or garage). This can greatly help organise things and also let each member of the household know where exactly their things are kept.   
 
39. Baby Wipe Case Storage
Save your baby wipe cases for travel storage. They are great for kids' stickers, crayons, and markers. 
40. Linens
This has always managed to skip my mind for a long time, but it is a great storage idea. Store your linens in pillowcases instead of having them (linens and pillowcases) scattered everywhere in the closet. With this, you know where to locate everything in its matching set.   
41. Power Strip Storage
Get your power strips away from the floor and out of sight by hanging a wire basket below your desk. This option is also great for short cords that don't get to the top of your stand with no extension, such as a phone charger. 
42. Slide-Out Pantries
This is one great idea. I don't know why this is not present in more houses. Slide-out pantries (in particular narrow unmatched walls) are a nice place to keep cereal as well as other food items.
43. Sneaky Ironing Board Storage
This is one of the stuff that makes you wonder what you've been thinking before. I also have the same problem many of you have with your ironing board. I do use it a lot in a year so don't judge me. I so much like the idea of keeping it at the back of a laundry room or master walk-in closet door where you won't see it but can still have easy access to it. Use robe hooks to secure it there.   
44. Jean Pocket Holder
This is a clever idea. Convert your old or worn-out jeans into a crafty penholder for your desk. Just place the jean section over a piece of cardboard or wood and slide the pens in the pocket. 
45. Easy Baggie Storage
Store lunch bags to a wall in the pantry using push pins. This is much more perfect if you don't have space in your shelf or drawer. You wouldn't even make use of it for this purpose anyway. 
46. Magnetic Bathroom Strip
Secure all of your hair clips, bobby pins, or other small metallic items in your bathroom. Install a magnetic bathroom strip to organize and keep everything looking nice. 
47. Ice Cube Tray
This idea is as smart as it sounds. Store reel of string neatly and in an organised way with the use of an ice cube tray. This will save you from having to sort through boxes that contain tangled string any more. 
48. A Set of Fridge Bins
Assign a place to all the contents of your fridge or freezer using these simple plastic bins. This set has a few varieties of sizes designed to keep cans, eggs, as well as bigger items such as condiments and produce. 
49. Garden Mailbox Toolshed
Get a mailbox and store all your small garden tools and gloves in it. A vintage mailbox would double as an attractive part of your garden decoration (maybe in a corner surrounded by flowers and vines paths). This will make sure your tools remain dry, clean, and easily accessible. This method is perfect for hiding them from a partner that likes to use things and fails to return them to their original storage.
   
Conclusion
Home organisation is never an easy task, but with the fifty (50) brilliant storage ideas discussed in this article, we hope you can gain and maintain control of your home organisation. If you have more ideas that you feel should have been added to the ones discussed above, we appreciate that you leave them in the comment section provided below. 
At Home Organisers, we are committed to help you organise your home and everything around you. We handle any kind of organisation services, including home decluttering service, home renovation planning, home office organising, and much more. Contact us today!