Kitchens are usually one of the rooms we frequently use in our house. And it is the rooms where most mess is being made. That is why keeping your kitchen organized is so much important.
Even though we all understand the importance of an organized kitchen (saves time, effort, energy, and money), it is one other thing to decide to get it done.
This article will discuss the task of organising your kitchen by organising each of the kitchen areas, such as the freezer, countertops, pantry, fridge, and cabinets.
I will give you tips and scopes to organise each area, so you can begin to work on making space in a room where you like to spend much time in. You don't necessarily need to do much to get rid of clutter and increase storage in your kitchen; all you need is the following tips:
Control Your Cookware
Stop the traditional stacking. Instead, look for a cheap cookware organiser to group your pieces vertically or horizontally. They are made to specifically fit varieties of sizes, so you can perfectly keep any of your omelet pan, or other similar items.
Use Turntables In Your Cabinets
Turntables are the storage secret weapon in the kitchen when trying to revive an inactive storage space. Use them to give space in your storage so that you can easily see and grab that hot sauce from your storage. They are also perfect for arranging bottles of oil that you might store in the cabinet closer to the stove so you can easily access them during cooking
Put In Pull-Outs
You will love how everything works perfectly with cabinet drawers that pull-out. Install it and enjoy pulling out those tough-to-reach back of the cabinet with no effort.
Use Cabinet Doors
Your kitchen gadgets are best stored at the back of cabinet doors, away from cluttering your drawers. Just attach a rod to the interior of the door and hang items, such as spoons and measuring cups using binder clips.
Sort Utensils
The utensil drawer can quickly turn into a mess. And if you don't have much space in it, utensils could damage the drawer or get stuck and damaged. Instead, arrange them in containers on the counter.
Toe-Kick Drawer's Installation
Implementation of this storage tip takes more, but if you have used out the storage space in your kitchen cabinets, you can increase cabinet space by installing hidden drawers to your toe kick spots and is ideal for storing flat or occasionally used items.
Go Vertical
A great number of cabinet spaces are often unused due to the shortness of many items. Instead of allowing the vertical area waste, keep removable shelf risers on short items, like coffee cups or saucers.
Display Your Spices
If you need space in your cabinet urgently, try to empty the spice cabinet and show your spices, instead. However, make sure you place them inside uniform containers to obtain a clean, nice look.
Corkboard Inside The Baking Closet
Hang your measuring cups or some other baking materials on cork both ard. You can keep them out of sight in your cabinets. Try using hooks or thumbtacks.
Remove Thing From The Cabinets
One of the ways to have a successful kitchen organization system which is maintainable is to avoid cluttering up spaces. If your kitchen cabinet space is not enough, try removing some items from your kitchen cabinets and storing them elsewhere around the kitchen.
Removing pots and pans from the cabinets and hanging them will give you more usable cabinet space and it can look great, too.    
Cart It Around
You may have additional space in the laundry room or visitor's room, but not in your kitchen. Move things you don't need every day but still, you need to store easily on a cart on wheels.
Consider Hanging Pot Rack
If you have the right spot for it, a hanging rack can be a great storage solution. You can easily access your pots, and you will have cabinet space to store other items. What a solution!
Use Standard And Labeled Glass Containers
You can improve the look of standard glass containers if you add labels on them. Keeping your stuff in these containers provides you a neat and organized look. You will also possibly return things to their place when they're labeled.
The Sides of Your Cabinets Are Useful
The amount of storage space wasting away the moment you stop looking around your kitchen is great. If the sides of your cabinets are exposed, use them. Add shelves, hooks, or a rail.
Use Sink Space
The space over the sink is often empty. Place a dish drying rack above the sink, and use it for anything that needs storing in that area.
Try Some Pegboards
Be more creative when considering narrow areas like this one. With a pegboard, you can make quick storage for different kitchen supplies.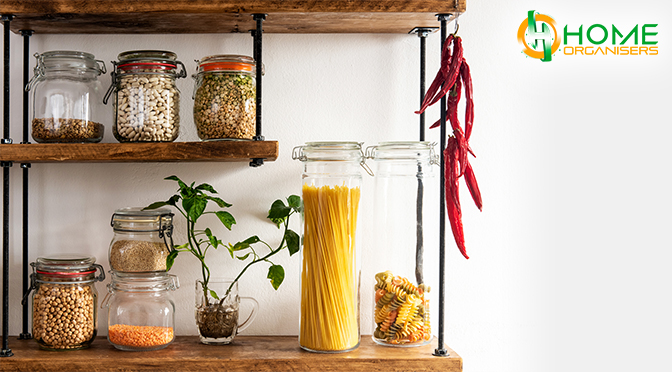 Hidden Pantry
Place caster wheels on a long bookshelf. Make this your hidden rollout pantry. Add towels so your items don't fall on the shelf while rolling it out.
Sponge Holder To Store Small Pantry Items
Yes, those kitchen sponge holders that are placed beside the sink can be useful. You can easily stick them onto your pantry storage's sides, or behind a cabinet door, or even on the backsplash in your kitchen with the use of adhesive strips to store small snacks closer and away from your filled cabinet.
Store Wraps Under Wraps
The shape and size of kitchen wrap, aluminum foil, and plastic baggies are odd. Get an adjustable kitchen wrap organiser to fit these items and reduce the space consumed by these items.
Create Space Under Your Kitchen Sink
The cabinet below your kitchen sink is usually cluttered, reducing its usefulness. Make space by adding a little curtain rod so you can hang cleaning supplies. This will allow for storing other items at the bottom of the cabinet.
Use A Lazy Susan
Put the deepest corners of your pantry into use with a Lazy Suzan. It will save items from being trampled upon and causing a mess. You can easily access everything.   
Use A Tension Rod To Hang Cleaning Sprays
This tip is old but good as it uses the free space under your kitchen sink. Fix a tension rod across the cabinet to hang your cleaning sprays in an easily accessible spot
Bag It
If you are saving up grocery bags to either recycle or have another plan for them, do not let them clutter your kitchen. You can use a bag organiser like mounting them on the wall or hang them on a doorknob to keep them away so they don't consume your cabinet space.
Float Your Food
Keep your frequently used foods in jars, and leave them hung beneath your cabinets. Hook sheet metal below your upper cabinets and magnets to the jar covers.
Label Frozen Foods
This will help you know what you have in the freezer. You will also want to put the date in it so you know when exactly to dispose of it. It informs you of the things you need to eat first.
Try An Over-The-Cabinet Towel Bar
You can flip around your small cabinet door towel racks so you have the rung in the cabinet instead. The rung is similar to the tension rod and provides a nice handle to hang your cleaning bottles.
Try Skinny Storage
Those small spaces between your cabinets and appliances, as well as any tiny spaces around your kitchen can be used as storage for some small-sized items like spices and other related items.
Organise Your Spices
When you don't organise your spices, you find it hard to use them. Take some time to organize them, so they are closely accessible. If there is no drawer to leave for spices, you can consider using a lazy Suzan to organise them in a cabinet.
Cookbook Stand
Your cabinet sides are perfect for hanging a towel bar and one molding to keep your books. This will enable the organisation to get them off the counter when not in use.
Use A Mixing Bowl To Store Mixer Attachments
A lot of space is used by mixer attachments, the whisk in particular. The mixing bowl is perfect storage for them and is easily accessible when needed. Place a towel in the bowl to save the attachments from scratching the bowl.
Clean Out The Junk Drawer
You know you are also guilty of it; your drawer is cluttered with random menus as well as various broken items. While you are cleaning out everything else, clean the junk drawer completely and do not allow such space again.
Organise Your Refrigerator
Do you find it hard to look for certain items in your fridge? You need to organize it. Try storing condiments in a turntable and staples in other clear containers.
Use Canisters
Canisters are a perfect way to keep things you often use. They give easy access and can be hung or kept on your countertop.
Decant Your Staples
You will increase space and also remove unsightly boxes as well as bags when you pour away pantry staples, such as grains, sugar, and pasta and keep everything tidy and fresh. With labels, everyone knows what item is stored where.
Get Trashed
Everyone detests the sight or smell of trash cans, and usually, pantries are not enough to contain them. Keep your waste disposal easy and out of sight by installing a sliding trash bin holder inside your preferred cabinet.
Consider Storage For The Large Appliances
While working with low counter space, you have to consider your appliances. But if you don't want to continue lifting a stand mixer into a cabinet, you know the task is tough. That is where installation of this appliance lift is helpful.
Install Door Shelf
The interior of your pantry door is a nice place to increase shelving. You can also add your spice rack here. You can make use of racks to hang shelving or organise directly into your door.
Vertically Store Serving Platters
With cutting board organisers, you can store your serving platters on each side. This will enable you to retrieve and put away all that you need at the right time without the need to pull out more than necessary from the cabinet to sort through many.
Spinout
You can use spinning shelves perfectly in any part of the kitchen to make any item more accessible. They are even in different levels. And, using them comes with fun. Just don't be too fast when spinning them to avoid flying out spices.
Dedicate A Separate Drawer For Paper Towel
Paper towels are important for most kitchens, but they don't have to clutter up your counter, dedicate a drawer to them instead.
Can Dispenser
Consume less space when stacked. Can dispensers are inexpensive and affordable? It will also be useful in keeping them in order, so you know when to dispose of the expired one.
Store Like Items Together
Storing like items together pleases the sight and it is also practical in saving space. When you group items of the same look together, it pleases the eye and also helps you know where each item is, as well as where to return each.
Do The Clean
Store your baking sheets, muffin tins, and other related items on their sides leaning upon a cabinet wall and not flat on one another. If you want it stronger, try using a cutting board organiser. You can try the same with oddly-shaped serving platters for proper organisation experience, storage and retrieval.
Make Your Pot Cover Hangers
This can be done using command hooks. Hang pot lids on your cabinet doors. Make sure each lid helps vertically to the door and place command hooks at 8:00 and 4:00 direction, making your lid look like a clock face. This lid should be placed inside these command hooks securely and you will easily grab it when needed.
Abandon The Knife Block
The same kitchen organisation tip can be used for your knives. Knife blocks consume space and leave blades hanging where it can be reached by kids or sometimes irresponsible adults. Place a magnetic knife strip to the back of the cabinet or its backsplash to keep the knife out of reach.
Place A Magnetic Knife Strip To The Side of Your Cabinets
If the room in the drawers is exhausted or the countertop is filled to contain a knife block, and the walls are also occupied, try and mount the knife strip straight to the side of your upper cabinets to make them easily accessible when needed.
Perform An Overhaul In Food Storage
You have a problem if you open up a cabinet and food storage containers started falling out. Check them and make sure you have similar pieces. Remove any items that don't. Then with a drying rack, store lids vertically to avoid them turning into a haphazard pile.
Store Rough Items On Saucers
If you store items that may drop debris or cause messes, keep them on small plates or deep bowls. This will prevent messes from spreading across your pantry or inside your cabinets and will also keep other items clean.
Get Egg-Cited
Line the fridge door bin with half of an empty egg carton. Then keep condiments in an upside-down direction to prevent them from falling on one another and keep them organized.   
Line Up Your Labels
We expect that labels will let us know what we have in our containers and to lead us and others about where to keep each item. But lining the label up is a major detail that helps in the label organisation will make a difference. In your open-shelving kitchen, the uniformly lined labels improve the entire orderliness, even when you have many different objects displayed.   
Conclusion
Now that you have inspiration about ideas to organise your kitchen, choose a few to start putting your house in order. Make sure you obtain your landlord's approval before you start if you are in a rental apartment. The food will be more delicious when it is prepared in a well-organized kitchen.
Home Organisers is committed to help our readers stay organised and enjoy their lives in a less-stressful way. For more information on how to organise your home, don't hesitate to contact us on 03 8583 9103.