Home Organisers understands the challenges involved with decluttering and organising living spaces can cause stress, anxiety and overwhelm, so let us make this process seamless and stress-free! What sets us apart? Our unwavering dedication to trustworthiness, reliability and professionalism in everything related to our organising services.
Trustworthy Organising Services are at the Centre of Our Approach
At Home Organisers, we aim to tidy spaces and build trust among clients through reliable and trustworthy organising services. We know inviting someone into your home to assist in decluttering is a big decision – so our promise to you is simple: trust only Home Organisers as organisers in their home or workplace!
Home Organiser Credibility: What Makes Us Different
Home Organisers stands out from competitors by upholding the highest standards of credibility and integrity. We believe credibility can only be earned through honest service that consistently meets customer needs – that's how our home organising services keep their credibility:
Transparency: Our organising process is founded upon trust. Every step is explained thoroughly during our organising service process – leaving no secret agenda behind! Choosing Home Organisers means rest assured, knowing every stage will be discussed thoroughly with you before beginning!
Certified Professionals: Our team consists of certified and highly-trained home organisers. In addition to being skilled at their craft, these individuals uphold honesty and integrity while working on your space – you can trust in their commitment and expertise! When one of our organisers enters your space to deliver outstanding results.
Responsible with Your Belongings: Your belongings are an extension of yourself, so we treat them carefully and ensure everything is recovered with your knowledge and consent. Our organisers take extra measures when handling these precious possessions for storage purposes.
Tailor-Made Solutions: Each home and its requirements for organisation differ, so our bespoke organising solutions can be tailor-made specifically to you and meet those individual specifications. With us by your side, your space receives all the TLC it deserves!
Organising Integrity Assurance Services: Our Commitment to You
Trust in home organising services extends far beyond providing excellent home organising services; our commitment is also about being partners who can rely on for all their decluttering and organising needs. Here's how we work to build it: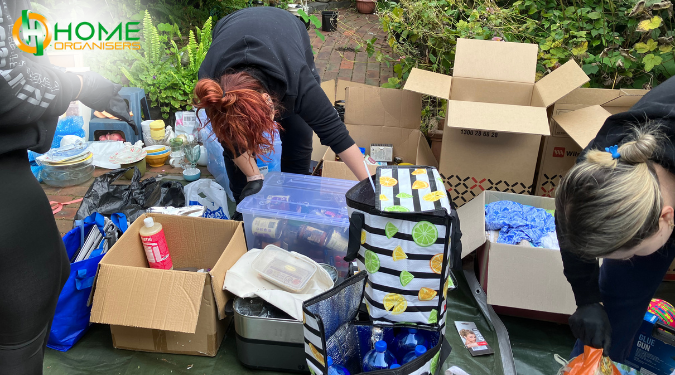 Quality Guarantee: We stand behind the quality of our work. If you are unhappy with any aspect, we promise to rectify it to ensure your complete satisfaction with every result we deliver. Our dedication to excellence guarantees nothing less than excellence for our services!
Timely Service: At our organising services company, we understand and respect your time. When booking one with us, expect punctuality and efficiency; our work will be finished according to its agreed-upon timeframe.
Open Communication: Trust is essential, which is why our approach involves keeping open lines of communication from initial consultation to project completion – you're always informed and in control.
Ongoing Improvement: We strive to remain at the forefront of our industry about organisation techniques. We ensure we offer our customers the best service through continuous learning and growth.
Dependable Organisers: Your Allies in Decluttering
When it comes to decluttering and organising your home, Home Organisers offers reliable organisers you can rely on. We know this process can be daunting for some; that's why Home Organisers has you covered:
Comprehensive Services: We specialise in comprehensive organising services ranging from decluttering and reorganising rooms to downsizing and prepping for moving. No matter what your organising needs may be, we have you covered!
Organising Expertise: Our team consists of knowledgeable organisers with vast experience who know all the latest organising trends and techniques, such as maximising space efficiently while creating clutter-free environments.
Efficient Solutions: At Home Organisers, we respect your time. We aim to transform your space quickly and efficiently as soon as possible.
Adopt A Nonjudgmental Approach: At every project we undertake, we approach them with empathy and a nonjudgmental outlook. Clutter can affect anyone at some point; therefore, we provide help without passing judgement on those involved in our projects.
Ensuring Trust in Home Organization: Be Your Trusted Partner
Home Organisers stands firmly behind their commitment to building trust through home organisation services. Our professionals understand the significance of trustworthiness, credibility and reliability within this industry; as a result, these values form the backbone of all we provide our clients.
By choosing us as your home organising partner, you're selecting a team of dedicated professionals dedicated to providing superior service through proven methods while treating your home with care and consideration.
Please do not settle for anything less than professional home decluttering specialists when organising solutions in your home. Get in touch with Home Organisers now and experience their difference first-hand. Your home deserves only the best, so trust the experienced team at Home Organisers with all your organising needs.
Home Organiser Accountability: Committed to Excellence
At our core lies our pursuit of excellence; thus, we take full responsibility for any project undertaken and strive to exceed your expectations with each result we deliver. What sets us apart in-home organising services:
Tailored Approach: We appreciate that every home is unique, so our approach to each project is individualistic and aligns with your specific requirements and goals. Your vision drives all our actions.
Effective Organisation and Efficient Execution of Assignments: Our organisational process is meticulous and practical, making the best use of both time and resources to deliver stellar results for you. At every turn of our process, you are kept fully informed.
Attentiveness: Our focus on detail extends across every facet of organising, from categorising items to developing storage solutions and sorting them by priority. No detail goes uncovered!
Customer Satisfaction: Your satisfaction is at the centre of everything we do; we aim to meet and exceed all expectations with every project we undertake. Whenever issues or adjustments are needed, we quickly address them for maximum efficiency and peace of mind.
Professional Organising Trust: Our Work Speaks For Itself
Home Organisers have built their credibility as professional organisers by producing accurate results for our clients, taking great pride in the transformations we bring into their homes. Here are just a few benefits associated with choosing Home Organisers:
Decrease Stress:  An organised home is one step toward alleviating  anxiety  and creating an idyllic living environment where you can unwind in peace. Our services create the space needed to do just that!
Increased Productivity: An uncluttered work area increases both productivity and efficiency. Our experts help maximise your space so that you can quickly achieve more.
Enhancing Aesthetics: A well-organised home looks better and feels more inviting; our services enhance this effect, making living spaces more pleasurable for you and your family.
Time Savings: Our effective organising process saves both time and effort; no longer must you search for lost items or deal with clutter – instead, your focus can remain solely on what matters to you!
Guaranteeing Trust in Organising Solutions: Your Path to an Organised Home
Home Organisers guarantees complete trust in its organising solutions. Trust is built through credibility, reliability and professionalism – three values that we uphold on every project that comes our way.
Choose us as your organising partner, and you'll gain access to a team of experienced professionals dedicated to providing outstanding services, creating functional yet clutter-free spaces and treating your home with respect.
Choose us as your organising partner, and you can rely on a team of professionals dedicated to providing top-of-the-line service and creating clutter-free spaces while taking great care in maintaining the integrity and value of your home.
Don't settle for less than reliable home decluttering experts – contact Home Organisers now at 03 8583 9103 or via email at nancy@homeorganisers.com.au and experience their difference for yourself! Your home deserves only the best; trust the Home Organisers' experts with all your organising solutions!