Many people are so busy with their careers that they have little time to clean or organise their homes. It becomes challenging to complete such a task on time and manage it during the weekends.
They must take time to relax, enjoy themselves and spend quality time with family. This doesn't mean, however, that the home should remain unclean. Suppose you're also in this situation and find it challenging to maintain your home in the best possible condition. In that case, it is best to hire professionals who specialise in decluttering in Melbourne.
You can do this if hiring a professional team to declutter your home is expensive, and you plan to do it yourself. Follow the detailed steps below to make the process easier and more manageable.
Steps To Get Rid Of Clutter & Organise Your House
Cleaning Your Kitchen is Important: The kitchen, where you prepare and store food, is a critical area in your house. It is essential to keep it as clean as possible. If you do not clean your kitchen every day, you may suffer from food poisoning. This is usually caused by bacteria and viruses that float around in the air. You must keep all your kitchen items in the right place. After you have finished cleaning, you should clean the counter, the sink, the floor and the corners. Remember to cover your food and dispose of the garbage every day.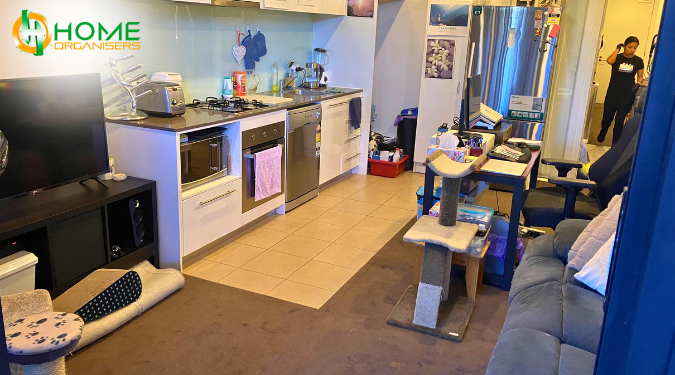 Bathroom cleaning: Another critical area that many people need to pay more attention to cleaning. They need to realise the importance of proper hygiene. The only thing they think is that bathing and wearing clean clothing will suffice. The washroom should be cleaned regularly to reduce the risk of exposure to bacteria, viruses and germs that can lead to serious health problems. The best thing to do is to flush the toilet, clean the counter, use soap dispensers and arrange the items in the correct order after use. A declutterer in Melbourne also suggests this. Keeping the shampoo and soap bottle in a corner or the towels hanging in the bathroom can make it worse.
You can also use a garbage bag: Many people collect dust and dirt with a dustpan and then throw them outside. It would be best if you never did this as it will pollute the air. When cleaning and organising your home, a garbage bag is a great way to collect dirt and dust. Keep the bag in your garbage can and dispose of it properly.
Take Out Unwanted Items: Many people will admit that they keep old furniture, such as chairs, tables and utensils, in their homes. They don't realise that they are ruining their living environment by keeping unwanted items in the house. It is best to get rid of everything you don't need in your house. You can sell it to make some extra money or donate it, which is also good.
Regular Cleaning: Cleaning regularly will help you to keep your home in top condition and rid it of unwanted items, dirt and dust. You will improve the air quality in your home and maintain a pleasant atmosphere.
Here are some ways to maintain and improve the appearance of your home while removing all the things you will never use again. Suitable living environments also improve mood and make people feel more relaxed.
Leave the task to professionals if you are still thinking about whether you can handle it on your own. You can rely on their years of expertise, knowledge and skill to deliver a high-quality result.
They will let you know their charges well in advance so that you can have a good idea. You can hire them if their price is within your budget. The expert cleaning team at a reputable company is known for providing decluttering services in Melbourne that are cost-effective without compromising on quality.
If you're looking for professionals to help organise your home, and maintain it in its best condition possible, then Home Organisers should be your first choice. Our team is highly experienced and trained to provide quality services.
They can be hired for home renovation planning, organisation, rubbish removal, Decluttering Services in Melbourne and more. Call us on 03 8583 9103 to book an appointment for a further discussion with our professionals. If there is any query, then you can send an email to nancy@homeorganisers.com.au. We will respond to you as quickly as possible.