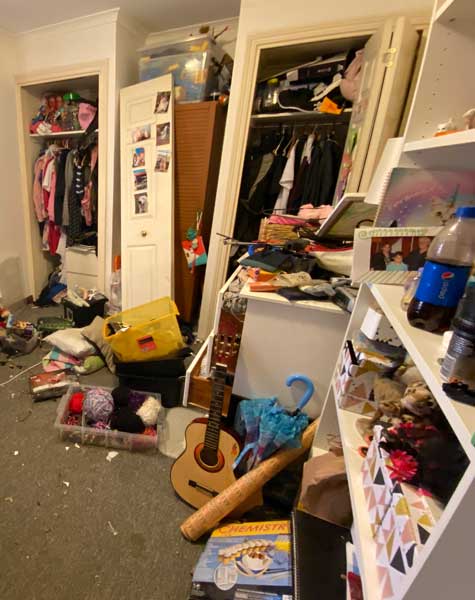 Your Reliable Professional Decluttering Services in Port Melbourne
It has been scientifically proven that keeping your personal belongings organised can play a major role in maintaining your sanity and mental happiness.Proper decluttering helps reduce stress levels and confer a range of psychological benefits- the most important being achieving a state of harmony between yourself and your home/apartment's surroundings.
Contrarily, an overstuffed wardrobe, un-mopped bathroom floor, dishes in the sink and pieces of clothes, paper and files hanging around untidily can send your mind into a tizzy and begin your downward spiral from there.
By causing an unwanted heaviness inside your brain it eventually leads to irritability, tiredness and anger.

"Or simply put, clutter inside your home is nothing but stagnant energy which deeply impacts your mood, self-esteem and bring about distress and negativity."
This Begs The Question – "Do You Find Yourself Shuffling Items In An Attempt To Declutter Your Home And Be Rid Of This Stagnant Energy?
If so, then HOME ORGANISERS; your trusted decluttering service provider in Port Melbourne will be more than happy to help you out.
Your Decluttering Experts in Port Melbourne To Streamline & Simplify Your Home & Lifestyle…
To accomplish sustainable, long-term changes to your living environment and lifestyle, our home declutter specialists enter the heart of your storage space to unearth items which serve no purpose to your family and prevent you from living the life you want.
We help you declutter and organise your physical living space and even provide you with the necessary tools and suggestions to ensure your day-to-day life ticks along smoothly without any stress or cause of worry.
With 15 years of experience in the Hospitality sector, we have the best home declutter consultants working across Port Melbourne and other suburbs in Melbourne offering customer-centric services.
We always ensure that the lives of our clients are streamlined allowing them to carry on with their regular lives at ease while we organise everything and declutter the mess professionally in quick time. Our customised home decluttering services will aptly suffice all our client's bespoke requirements and allow us to create a neat and positive living environment which will keep them healthy and happy!
A Peek into What We Organise In Your Home/Apartment
Our professional declutterers serving near Port Melbourne will visit your home and perform the following –
They will organise the kitchen pantry, drawers (or each room), cupboards and even storage containers with labels.
They will remove all existing trash from your bedroom area, declutter and sort everything- be it bedsheets, untidily kept clothes, even organise stuff inside the wardrobe. In consulting with you, they will even remove your old clothes to free up some space and donate them to the needy.
They will organise bathroom cupboards and remove out-dated and old products. Towels and all bathing accessories will be stored up in its appropriate spot and all other clutter causing items will be diligently boxed up for removal.
In the kid's room, they will declutter the existing mess and organise everything important starting from clothes, loose paper, backpacks, bed-sheets and more. They will even catalogue their books, CD collection and remove all of the unwanted items from their living space.
In addition to all these home organising and decluttering tasks, our experts will even help you store all your crucial documents, files, misplaced bills and office records.
"The whole focus will be to streamline and simplify all disorganised storage areas and establish quality interior flow and aesthetics."
Request a Free Estimate Whenever You're Ready
Your home is your sacred sanctuary. At the end of the day, it is where you relax, unwind and be with the people who matter the most. It is precisely why you should keep it tidy, organised and welcoming.
HOME ORGANISERS will restore order and serenity to your home. And with our diligent team of home decluttering service experts serving across Port Melbourne, we will bring about an amazing transformation to your physical space which will only inspire everyone around you.
Get a Free Estimate or Call Us Whenever You See Fit